42
Familia Torres – Pacs del Penedès
Penedès, Spain
The iconic Mas La Plana Cabernet Sauvignon; the vineyard-set Jardí El Celleret Restaurant with majestic views of Montserrat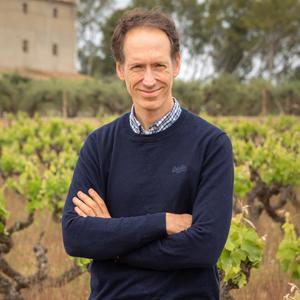 Winemaker
Miguel Torres Maczassek
Wine Style
Focus on multi-region Spanish reds and an iconic Cabernet Sauvignon
First family of wine
Spain's first family of wine, with five generations of winemaking experience and winery operations in Spain, Chile and the USA, Familia Torres has led the way in ambition, scale and commitment to making high-quality wines. Most exciting among its recent developments is surely its elegant Javier Barba-designed winery, La Bodega Waltraud, in Pacs del Penedès.
Destination: Mas La Plana
The impressive minimalist bodega, located an hour's drive west of Barcelona, is the ultimate venue for a complete wine and food pairing experience. Discover all you need to know about the Torres family winemaking tradition and know-how through the Signature Wine Experiences, which include wine tastings in the vineyard and from barrel in the cellar, as well as vertical tastings of Torres' most iconic wines. Your experience can be topped off with a memorable session in gastronomic indulgence at the recently opened Jardí El Celleret restaurant.
Dine in style
Familia Torres inaugurated its Jardí El Celleret Restaurant in 2019. This welcoming and intimate dining setting set amid Torres' Penedès vineyards, with incredible views of Montserrat, takes wine and food pairing to a new dimension. Delve into the diversity and richness of the Catalan landscape and cuisine in impeccable style, ideally with a glass of the flagship Mas La Plana Cabernet Sauvignon in hand. Also worthy of note: Pacs del Penedès is a key stopping point on La Carretera del Vi – the first official Mediterranean Wine Road – whose breathtaking 40km-long road route takes you on a journey along an old Roman road that joins the inland vineyards of no fewer than 13 wineries, finishing at the beaches of El Garraf.
Contact