4
Creation
Walker Bay, South Africa
The Best Vineyard in Africa 2023
Ethos: Every dawn brings an exciting new challenge and innovation is a way of life.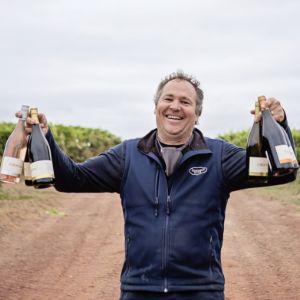 Winemaker
Jean-Claude (JC) Martin
Wine Style
Modern, cool-climate South African white, red, sparkling and fortified wines, with a focus on Chardonnay and Pinot Noir
Sitting pretty
Translating as "heaven and earth," Hemel-en-Aarde lies a couple of hours down the coast from Cape Town with a cool climate ideal for producing fresh, refined Chardonnays and Pinot Noirs. But aside from its burgeoning winemaking reputation, it is this spot's sheer, natural beauty that will truly blow you away.
So Swiss winemaker JC Martin and his South African wife Carolyn found: they stumbled across their 40 (but now 50) hectares of virgin soil in 2002 and decided to build an estate from scratch, incorporating and highlighting its bounteous surroundings. The first harvest took place in 2006 and the couple's combined viticultural pedigree, combined with a thoroughly modern approach to farming, winemaking and hospitality, has turned Creation into an unmissable destination.
Your visit
Gastronomes can delight in the seasonal, locally sourced and healthy food of the à la carte menu (with small plate or multi-course options) and fun food pairings like the popular chocolate experience. Guests are encouraged to explore the grounds (throughout which are dotted numerous works of art, with regular exhibitions by local artists) and to make the most of local hiking and cycling safaris highlighting the Cape's inimitable fynbos vegetation. They constitute just some of the sustainable options championed by Creation, a proud member of voluntary schemes Integrated Production of Wine (IPW) and EnviroWines, and a WWF-SA Conservation Champion. Ecologically-friendly practices across the estate include the solar-powered self-catering cottage, Voormanshuis – an utterly private and peaceful retreat with mountain bikes to hand.
The wines
As befits the region, which is cooled by the freezing Atlantic Ocean and its breezes, Chardonnay and Pinot Noir reign. Creation's location on the Hemel-en-Aarde Ridge puts the vineyards at around 290 metres, boosting the wines' acidity and freshness. The premium range is site specific and barrel selected, with individually numbered bottles presented in wooden gift boxes. Chenin Blanc is also produced, plus Bordeaux and Rhone varietals (Cabernet Sauvignon, Grenache, Merlot, Petit Verdot, Syrah, Roussanne, Sauvignon Blanc, Semillon, Viognier).