1
Catena Zapata
Mendoza, Argentina
Ethos: Elevating our historic variety Malbec and our Argentine winemaking regions for another 200 years.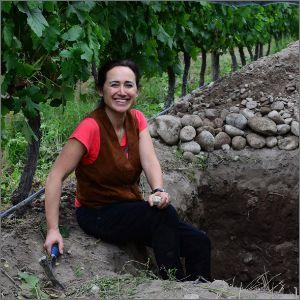 Winemaker
Dr. Laura Catena
Wine Style
Red, white and sparkling wines (some natural) focusing on single terroir and high-altitude blends. Notable Malbec and Cabernet Sauvignon.
Argentina's First Family of wine

Founded in 1902 by Italian immigrant Nicola Catena, who championed the Malbec grape from the off despite its declining popularity in Bordeaux, Catena Zapata is today a centre of detailed viticultural study, with vineyards dubbed the country's Grand Crus. Nicola's grandson, Nicolás, is one of the most decorated winemakers alive and has steered Argentinian winemaking up into the giddy altitudes that now sets it apart. The estate is currently run by his daughter Laura, who created the Catena Institute of Wine, developing Argentina's sustainability code and collaborating with top universities around the world to get the best out of her own vineyards and, more broadly, to help Argentinian wines reach their full potential.
Your visit

Inspired by Mayan temples, the pyramid-shaped winery is an attraction in itself, but the estate also offers three new types of tour, which must be reserved. The 'Family is Everything' tour outlines the family's oenological progress over the years. The 'Blending Games' experience turns you into a winemaker for a day, and the 'Wine and Music' tour is a multi-sensory session bringing the wines to life in novel ways.
The wines

You don't know Argentinian Malbec until you've tasted Catena Zapata. Owing to the higher altitudes, theirs is floral, pretty and surprisingly light in colour. The estate also produces excellent Cabernet Sauvignon, Chardonnay, and a set of indigenous grape varieties, some in a natural style.
Dr. Laura Catena is globally recognised for her work as both an emergency doctor part-time in San Francisco and an ambassador for Argentinian wine. She collaborates with head winemaker Alejandro Vigil to create pure expressions of her family's terroirs, right down to the smallest plots.