3
VIK
Cachapoal Valley, Chile
Ethos: The perfect fusion between humans, experience, land, climate and high technology.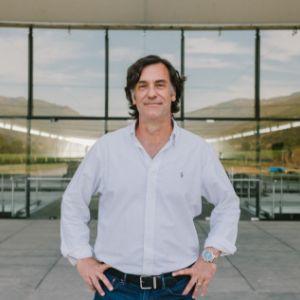 Winemaker
Cristián Vallejo
Wine Style
Red and rosé wines
A wilderness festival
Set across 4,300 hectares in Chile's Millahue Valley, VIK is one of the world's most unique wineries. A visionary blend of wine, architecture, landscape and luxury, the winery has always placed innovation and science at the centre of everything it does. After a two-year search to find the optimum place to make wines, Alex and Carrie Vik settled on this corner of the Cachapoal Valley in 2004. Millahue is also known as the 'golden place' by the native Mapuche people and Alex and Carrie's most immediate concern was how to make the highest quality wines without disturbing this pristine natural environment. They eventually collaborated with architect Similjan Radic to create a state-of-the-art winery but one which blended in with its untamed surroundings. This commitment to the environment is continued in the viticultural practices and the fact that most of its 4,300 hectares are a nature reserve for native flora and fauna.
Your visit 
Set among the vines and with the mighty Andes providing a stunning backdrop, the winery alone is a sight to behold. Its transparent, stretched fabric roof is suspended above the underground entrance like a white wing. Guests walk towards the winery down a central causeway, flanked on either side by a reflecting pool of water and a sculptural installation for them to admire. In the winery, they descend to the lower levels and the tasting room, which is also filled with contemporary works of art. Visitors are also invited to stay at the property. The hilltop retreat boasts 22 suites, superb dining experiences and an array of activities for those who wish to get out and about or perhaps just relax and admire the views. The adventurous might choose to ride or bike around the vines while cooking, yoga classes are on offer for those who stay behind. Guests can then relax together in the wine spa or enjoy the infinity pool. Each stay is fully customisable, with the VIK ethos being that just every singular element comes together to produce exceptional wine, so it is to create a truly unforgettable moment of hospitality.
The holistic experience is completed with outstanding dining options, including the vibrant flavours of Chile at Milla Milla and the Pavilion or try La Huerrta, an organic al-fresco restaurant where 100% of the ingredients are harvested right before they are prepared for diners. After dinner, continue to unwind by taking in the art collection or stargazing under the clearest of night skies.