1
Antinori nel Chianti Classico (Marchesi Antinori)
Tuscany, Italy
The Best Vineyard in the World 2022
The Best Vineyard in Europe 2022
Ethos: Passion, patience and the continual pursuit of high quality.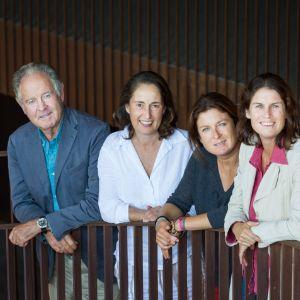 Winemaker
Antinori family
Wine Style
Chianti Classico (red) wines gently handled for a natural expression of land the family has farmed for centuries.
Family values
The Antinori family has been making wine since 1385, when Giovanni di Piero Antinori became a member of the Florentine Winemakers' Guild. Six centuries and 26 generations later, this impressive lineage has been channeled into a cutting edge winery in the Tuscan heartland that celebrates Marchesi Antinori's heritage and expertise, whilst setting the standard for modern winemaking.
Designed by Marco Casamonti and based on the family's own concept, the Antinori nel Chianti Classico winery opened in 2012 after seven years' construction. Using locally sourced materials including wood, glass, terracotta and COR-TEN steel, it blends into the landscape both visually and environmentally: surrounded by olive groves and oak trees, its roof covered in vineyards, the building appears as two graceful slits in the hillside; within, gravity-flow vinification and naturally cool cellars reduce energy consumption. It forms the headquarters of Marchesi Antinori, which encompasses other estates (including the trendsetting Tenuta Tignanello, whose signature wine has become a favourite amongst the international glitterati, from Meghan Markle to Barack Obama).
Your visit
Three types of tour all begin with an introduction to the Antinori family's history and philosophy. Visitors can absorb the unusual architecture, contemporary winemaking facilities and museum area: now run by Albiera Antinori with the help of her two sisters, Allegra and Alessia, Antinori nel Chianti Classico houses much of the family's extensive art collection. As well as preserving and restoring historical works, they also commission new ones, hosting exhibitions and seminars to celebrate all art forms reflecting Tuscan culture. With winemaking and cooking included in that remit, visitors receive a full and glorious immersion.
The restaurant, Rinuccio 1180, is set on the roof terrace in warmer months, with panoramic views over tumbling hills. It uses local ingredients to make traditional Tuscan dishes in an elegant, modern style. Tastings take place in a glass pod suspended over the barrels in the cellar.
The wines
Made from 4.6 hectares of vineyards mostly planted to Chianti Classico's prime grape, Sangiovese, the estate also grows traditional local varieties like Canaiolo, Ciliegiolo, Colorino, Malvasia Nera and Mammolo, and small amounts of the international Cabernet Sauvignon and Cabernet Franc. The gravitational winery allows for gentler handling of the grapes, encouraging pure fruit aromas in balanced wines with supple tannins.