8
Schloss Johannisberg
Rheingau, Germany
Ethos: Passion, responsibility and pride.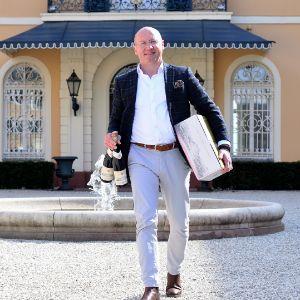 Winemaker
Stefan Doktor
Wine Style
White wines from Riesling only, from dry to sweet, all with impeccable concentration
A jewel in the crown
The Neoclassical palace of Schloss Johannisberg sits with suitable majesty atop the hill from which it takes its name, overlooking the Rhine Valley. With over 1,200 years of recorded winemaking history, it is a beacon for travelling oenophiles, who will find a veritable treasure trove within. And it's not just historians and Riesling fans catered for here, but foodies and music lovers too.
Your visit
A typical day kicks off with a guided tour of the eighteenth century palace before lunch in the Schlossschänke restaurant, where floor-to-ceiling windows afford views across the Rheingau. Spend the afternoon delving into the cellars, and you might just be lucky enough to sneak through the iron gate into the 900-year-old subterranean Bibliotheca, which houses the estate's most precious wines, the oldest from 1748. Come nightfall, there is a packed roster of events, with al fresco jazz and classical concerts throughout the summer months.
The wines
Vineyards were originally planted at Schloss Johannisberg in 817, supposedly on the orders of the Roman emperor Charlemagne. A Benedictine monastery was erected in 1100, replaced by the current castle from 1716 and, in an auspicious move, the land planted exclusively to the Riesling grape in 1720 making Schloss Johannisberg the oldest Riesling winery in the world – an accolade it has more than lived up to: in 1775, it invented the Spätlese category of wines (albeit by accident) when a delayed harvest yielded overly ripe fruit that the winemaker decided to use anyway; over the next century, it gave Auslese and Eiswein to the world and in 1971 was legally designated as its own individual vineyard site. It is a founding member of the quality-focused German growers' association, the VDP, and has consistently proven itself as one of the finest producers of Riesling in every style.
The vines are planted on 50 hectares of a south-facing quartzite hill, slap bang on the 50th parallel north circle of latitude. The stark difference in temperature between day and night enables the grapes to ripen fully whilst retraining high acidity, their aromatic concentration bestowing phenomenal aging potential.