15
Rippon
Central Otago, New Zealand
Ethos: Granted a moment of custodianship, the primary interest of all who work and live at Rippon is to do justice to this remarkable piece of land.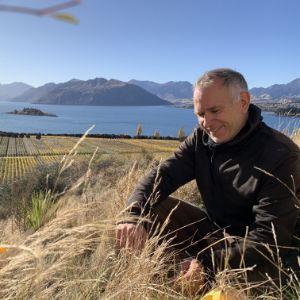 Winemaker
Nick Mills
Wine Style
Single varietal white and red wines made from Pinot Noir, Riesling, Gewurztraminer, Sauvignon Blanc, Gamay and Osteiner, plus one rosé blend, all of outstanding quality and a sense of place.
All is calm
Absorb the quiet magnitude of Lake Wanaka from a prime position at Rippon Hall. One of Central Otago's first wineries, it is further north than most of the region's other vinous activity, sitting calmly on the water's edge with the small Ruby's Island out in front and Southern Alps beyond. It's an irresistible prospect (if not for photography alone), offering a sense of peace and oneness with nature.
The farm has belonged to the same family since 1912, and its deep connection felt with the land is palpable, guiding the biodynamic practices now firmly established in the hopes of producing wines that echo where they're from. Grapes were initially experimented with by Rolfe Mills in the 1970s, who planted the first formal vines in 1982 and released his first vintage in 1989. His son Nick is now the winemaker, working alongside his three siblings and, whilst production remains relatively small, Rippon has become a byword for quality worldwide.
Your visit
A warm welcome awaits every guest at Rippon, where tastings guide you through the full collection of wines. Although there is no permanent restaurant, local chefs take residence at pop-ups during the winter months and, a magical event venue, the estate hosts classical and jazz concerts throughout the year and a highly anticipated annual cèilidh.
The Millenium waterside walkway links the winery to the nearby town of Wanaka, where thrill seekers can attempt hiking, biking, stand-up paddle boarding, sky diving, jetboating and the world's highest via ferrata on a 700 metre waterfall climb.
The wines
Fully organic and biodynamic, Rippon's wines are made from six grape varieties with as little intervention as possible. Nick's extensive Burgundian experience (including Domaine de la Romanée-Conti, Domaine Albert Mann and JJ Confuron) ensures wines of elegance and a clear sense of place.
The grapes' personality is always celebrated, even in the wilder 'Young Vine' releases. The flagship set of 'Mature Vine' Pinot Noirs each hail from a particular plot of the estate's oldest vines and are named after family members.