21
Château Oumsiyat
Bekaa Valley, Lebanon
Ethos: Passion and heritage from father to son.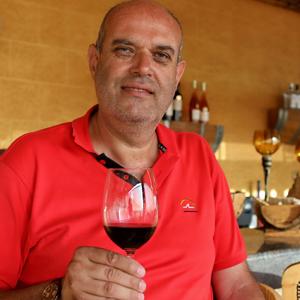 Winemaker
Joseph Bou Sleiman
Wine Style
Refreshing yet concentrated red, white, rosé and sweet wines, with a focus on native Lebanese grapes such as Obeidy, Merwah and Meksassi.
Ancient wisdom
Some 35 kilometres from Beirut, the Bekaa Valley is the centre of modern Lebanese winemaking. And in Mount Lebanon's foothills is the ancient mountain village of Mtein, replete with five palaces built by the Al Lamaayiin Emirs plus hiking trails dotted with castles and ruins. There you'll find the family-owned Château Oumsiyat, which is defining how the country's wines are viewed across the world.
Your visit
Founded in 1950, Château Oumsiyat is run by fourth generation winemaker Joseph Bou Sleiman and his wife. Having learned from his father, Victor, Joseph has gradually implemented his own techniques, updating the winery and championing his own blends whilst respecting the traditions that have for so long been in place. So whilst old terracotta amphorae can be spied in the cellar, the imposing stainless steel tanks on the side of the building point to the careful, temperature-controlled handling of today's wines so as to preserve pure fruit aromas. Tours are led by the family, with samples tasted right next to tanks giving way to spectacular views across the valley.
The wines
Château Oumsiyat's vineyards cover 78 hectares of warm, dry land, allowing Mediterranean grape varieties to flourish, including Santorini's native Assyrtiko. Now the winery's calling card, there is even speculation that it originated in Lebanon before being transported elsewhere by the Phoenicians… Either way, 'Cuvée Membliarus' (named after the Phoenician governor of Santorini and blended with small amounts of Sauvignon Blanc and Viognier) is fresh, fruity, full of white stone fruit flavours with that moreish saline edge typical of the grape.
The vineyards' altitude (1,000-1,300 metres) helps maintain perkiness and prevent over-ripe flavours despite the heat, with oak usage generally shunned in favour of stainless steel, and malolactic fermentation prevented in the whites. The Blanc de Blanc, for example, is an impressively delicate blend of the lesser used Ugni Blanc and Clairette with Sauvignon and Chardonnay.
The reds have heft, with impressive Bordeaux blends and a Syrah with dark fruits, pepperiness and ripe tannins. And then there are the indigenous grape varieties that Château Oumsiyat is championing with a vengeance: Obeidy, Merwah and Meksassi in particular.