20
Sikory Winery
Krasnodar, Russia
Ethos: Life experience and wisdom intertwined with the forever-young enthusiasm of our creator..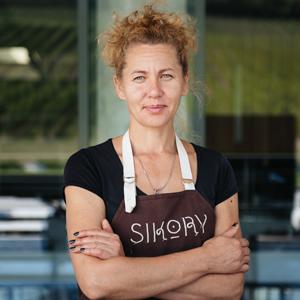 Winemaker
Alyona Tselousova
Wine Style
Classically-inspired red and white wines, a Traditional Method sparkling, and naturally sweet wines from Reisling and the native Krasnostop Zolotovsky.
Something in the water
Some claim the Black Sea to be the oldest oenological region on the planet, with evidence of vineyards and trading tracing back to the Ancient Greeks. Today, some of Russia's best vinous activity occurs near its shores, and in Krasnodar Krai in particular, including at Sikory. A family project founded in 2012 by its namesake Alexander Sikorsky, this sleek gravitational winery produces single varietal wines telling the story of its distinctive soils.
Your visit
Tours take you up into the forests and mountains, to a bell-shaped chapel and observation deck giving an overview of the land, then into the vineyards, including the finest, terraced plots where the indigenous Krasnostop Zolotovsky grape is grown. Built using as many natural materials as possible, the winery's award-nominated interiors were designed by Sikorsky's elder daughter, Yulia, as well as Maria Yablonskaya and MART studio. A strikingly modern aesthetic is nonetheless based on the family's Polish-Ukranian roots, Ukraine's traditional eight-point star adorning the walls and light fixtures in deconstructed forms. The building encompasses a laboratory, fermentation workshop, stainless steel maturation hall and a cellar where the wines are matured in varying sizes of oak barrels and concrete globes. The circular tasting room peers down onto the cellar through a glass floor, with panoramic views out over the Semigorye Valley, and the cutting edge kitchen is gaining a name for its gastronomic pairings. Warmer weather sees tastings conducted over picnics; in colder months a cozy grill house warms guests with blankets and naked flames, whilst they enjoy grilled meats alongside the views.
The wines
The estate now spans 47.3 hectares under vine, the region's brutal climate assuaged by the Black Sea. This leads to freshness, acidity and concentrated flavours in the wines, which are made from Chardonnay, Sauvignon Blanc, Riesling (both dry and a late-harvested sweet), Pinot Noir, Cabernet Sauvignon, Cabernet Franc, Merlot and the native Krasnostop Zolotovsky (translating as "red foot," it is a grape capable of great tannin, acidity and alcohol, with complex aromas of bramble fruits and occasionally green pepper). The labels and boxes are designed by Sikorsky's younger daughter, Elena.