21
González Byass – Bodegas Tío Pepe
Jerez-Xeres-Sherry, Spain
Ethos: Tío Pepe is more than a wine – it's a mood, an attitude towards life.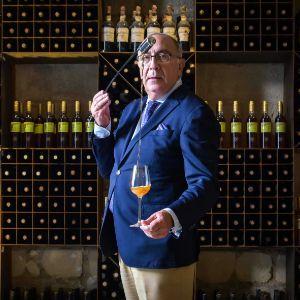 Winemaker
Antonio Flores
Wine Style
A complete selection of dry to sweet sherries including historical releases, plus vermouth and Brandies de Jerez.
You can leave your hat on
Created in 1841 by the founder of González Byass and named after his Uncle Joe, Tío Pepe started out as a dry white Fino and now encompasses a full range of sherries, in addition to brandies, vermouths and aged vinegars. They are all produced in Andalucia's Jerez de la Frontera, the home and namesake of this carefully matured wine.
For most of the twentieth century, Tío Pepe bottles were notoriously accessorized with a red bolero, Cordovan hat and guitar, pointing to a sense of fun and frivolity that makes a visit to its bodegas so irresistible. Not least to take a ride on the miniature red train that transports you between the cellars or to spy the fabled – but emphatically real – drunken mice, who climb appropriately-sized step ladders put in place by thoughtful members of staff, to sip sweet Pedro Ximénez from traditional 'copita' sherry glasses.
Your visit
Private tours take you through the vineyards, winery, bottling rooms and nineteenth century aging cellars, culminating in wine and tapas tastings to show you exactly how the locals do it.
For a total immersion, Tío Pepe opened what may be the world's first sherry hotel in 2020, in the heart of Old Town Jerez. Light, bright and airy, the 150-year-old buildings were formerly cottages for the winery workers. Now, they comprise 27 bedrooms and suites decorated in clean, white lines with accented colours to contrast the old wooden beams on the ceilings. A stunning rooftop terrace with bar, restaurant and pool places guests amid the spires of Jerez's cathedral and alcázar, with three dining areas, a gym, solarium and massage area down below (the latter offering oenotherapy).
The wines
Tío Pepe produces sherries spanning the entire spectrum, from dry to lusciously sweet (the Pedro Ximénez is called 'Nectar' and those mice would seem to agree), plus historical ranges including the 'Vors' line (matured for upwards of 30 years) and 'Finito' (made from barrels long-forgotten in the cellars). The brandies, vermouths and aged vinegars all exhibit the same, inimitable character.