31
d'Arenberg
South Australia, Australia
Ethos: Thinking outside the box.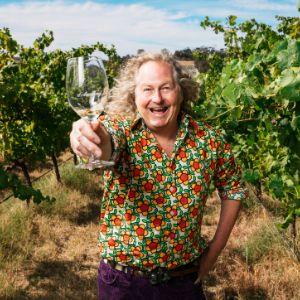 Winemaker
Chester Osborn
Wine Style
A huge portfolio of white, rosé, red, sparkling, sweet and fortified wines bestowed with quirky cuvée names.
A world of pure imagination
Australia's very own Willy Wonka of wine has turned his family's McLaren Vale estate into a veritable extravaganza, with feasts for all the senses just 45 minutes from Adelaide. Experiences at d'Arenberg are almost as flamboyant as winemaker Chester Osborn's wardrobe (he can easily be identified by his loud shirts, untamed grey curls and the odd hat), an estate brimming with personality that nonetheless respects a 109-year heritage that places it among the country's prestigious First Families of Wine.
Your visit
Poised in the middle of the estate is the d'Arenberg Cube, a mirrored four-story construction designed to look like a Rubik's Cube in order to reflect the complexities and puzzle-solving nature of winemaking. It quite literally reflects the vines growing around and underneath to give guests the impression of floating amid the vineyards. At the entrance, you're faced with a piece of reverse perspective art that sets the tone for the Alternate Realities Museum within, including a 360-degree video room, a sensory room and a virtual fermenter that makes you feel like you're in a tank of grapes. Elsewhere, a contemporary art gallery currently hosts an exclusive Salvador Dalí exhibition. Top floor tasting rooms host interactive master classes and the casual-dining Polly's serves wine and cocktails.
For the ultimate day out, team the 'Blending Bench' experience of mixing and bottling your own wine with the eight-course degustation menu and pairings at the flagship restaurant, d'Arry's Verandah. Housed in the restored nineteenth century homestead with gorgeous views out over the hillside, it is named after Chester's father, who established the winery's stellar reputation during his winemaking tenure and has been awarded the Order of Australia medal for services to the industry. He may have handed the winemaking reins over to Chester in 1984 but d'Arry still runs the business at the age of 92.
The wines
Easily identifiable by the distinctive red stripe across its labels, d'Arenberg produces a vast range of wines from a staggering 37 grape varieties. Farming is now fully organic and biodynamic, making this the largest biodynamic grower in Australia, and Chester has introduced the world's first fully automated natural winemaker. In addition to typical grapes like Shiraz, he experiments with warmer-climate varietals including Mencia, Montepulciano, Aglianico and Negroamaro, naming his wines in truly eccentric style: 'Stephanie the Gnome with Rose-Tinted Glasses' is a rosé blend inspired by the Burgundian region of Savigny-lès-Beaune (spot the rhyme) but made with red wine techniques; 'The Cenosilicaphobic Cat' is named after a cat Chester had as a child with a penchant for wine (cenosilicaphobia is the fear of an empty glass).