37
Quinta do Bomfim
Douro Valley, Portugal
Ethos: Respect, passion, excellence, stewardship, leadership.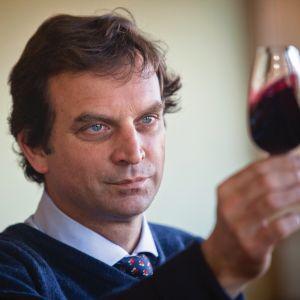 Winemaker
Charles Symington
Wine Style
A proud focus on native Portuguese grape varieties, going into white and red Douro DOC and fortified Port wines.
A hub of research
The Symington family has been making DOC wines and vintage Ports at Quinta do Bomfim for five generations. Nestled in the village of Pinhão, in the heartland of the Upper Douro, it would have been easy for them to rest on their laurels and enjoy the ongoing popularity of the Dow's Ports that they supply but, instead, they have made the quinta a centre of modernization and excellence, with lots for guests to behold.
The winery and cellars are housed in a grand old lodge that was built in 1896 and pioneered the use of autovinificators in the 1960s, when the traditional practice of foot-treading became problematic. In 2015, the Portuguese Prime Minister opened a new facility close by dedicated to a cutting-edge system of mechanical lagares. With the use of additional paddle plungers and rotating paddles, this contemporary winery is capable of extracting colour, flavour and tannins from the grapes with an exacting level of control breeding tiptop quality.
Innovation is happening in the vineyards too, with a series of experimental sites used to investigate the region's micro-terroirs and cultivate 31 different types of grapes, the majority indigenous. Combined with other estates in the Symington family's portfolio, this gives them the largest collection of native varieties in Portugal, which not only helps to promote and preserve the country's oenological identity, but to safeguard the industry against the perils of climate change.
Your visit
You'll learn about this distinctive initiative, and see the lagares in action, during one of the winery tours, which all start in the original building's miniature museum – a collection of photographs and documents from the early twentieth century providing a snapshot of how the region used to look – before you head out into the vineyards to compare with how things stand today. Finish up with a Port and tonic on the sun-filled terrace, with views of the gleaming Douro River in front and the mountainous vineyards all around.
The wines
In addition to the better-known Port grapes like Touriga Nacional and Touriga Franca, the Symingtons are using current underdogs such as Vinhão (also known as Sousão) to add richness and complexity to their fortified wines. With their table wines also championing such lesser-known varieties, both red and white, this estate offers a true taste of the Douro.