8
Quinta do Crasto
Douro Valley, Portugal
Ethos: Respecting the natural equilibrium.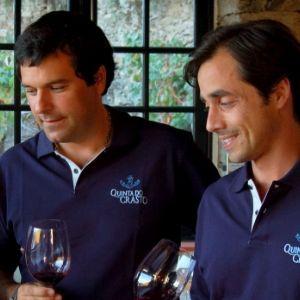 Winemaker
Manuel Lobo & Tomás Roquette
Wine Style
White and red Douro DOC wines and premium Port from some of the region's oldest, most historic vines.
A cut above
The trapezoid infinity pool of Quinta do Crasto is cut high up into the Douro hillside, overlooking the river. Designed by Pritzker Prize-winning architect Eduardo Souto de Moura, its swimmers get to enjoy views of this UNESCO World Heritage region and its famously sloped vineyards from a height of 600 metres, followed by wine and tapas on its terrace.
The estate doesn't just boast a winemaking history dating back to 1615, but one of the stone pillars originally used as physical indicators when the Douro became the world's first demarcated wine region in 1758. This "Marco Pombalino" can be found next to the century-old manor house, which is home to Leonor and Jorge Roquette, its fourth generation custodians.
Your visit
Staying in one of the four guest suites is a decidedly intimate affair, and it is not unusual to dine alongside members of the family. Breakfast is a particular delight, the tables laden with oranges grown on the estate and fresh, homemade bread. Next, explore the painstakingly preserved seventeenth century chapel and admire yet more views, down over the family's vineyards and olive groves.
The wines
When Leonor and Jorge took over in 1981, Quinta do Crasto was focused on Port production. Over time, they have revitalized and extended the vineyards to produce an additional selection of dry red and white wines focusing on native grape varieties. The two most special cuvées, 'Vinha Maria Teresa' and 'Vinha da Ponte' are red blends from old vines and, inspired by the estate's Ports, are only made in the best years, the grapes trodden under foot once they reach the winery (a practice broadly mechanized otherwise).
In 2013, the barrel cellar was renovated to enable greater temperature and humidity controls, becoming the first Portuguese winery to use the OXOline barrel management system: barrels can be stored in higher stacks to make better use of space, and sit on individual rollers enabling lees-stirring via rotation, without having to open them up and thus let oxygen in.
Despite such modernisations, the family is keen to respect the estate's ecological heritage and is currently creating a genetic map of the vineyards so as to maintain that identity, and boost biodiversity.