11
Rippon
Central Otago, New Zealand
The Best Vineyard in Australasia 2023
Ethos: Granted a moment of custodianship, the primary interest of all who work and live at Rippon is to do justice to this remarkable piece of land.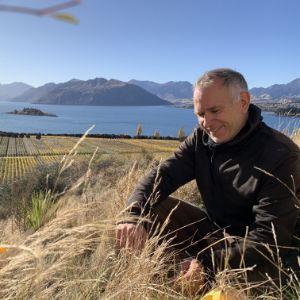 Winemaker
Nick Mills
Wine Style
red, white and rosé wines
Central Otago in New Zealand is an elemental land of exquisite light, air, water and earth. It is a landscape marked by sparkling waterfalls, mighty glaciers and breathtaking alpine valleys. This is the world of adventure that draws thrillseekers to New Zealand's Southern Alps every year. But for almost 50 years, it has also been the home of a singular vineyard, Rippon Estate. In 1975, third-generation local farmer, Rolf Mills, planted an experimental plot of vines on the shores of Lake Wanaka. In 1982, now convinced they wanted to start making wine, Rolf and his wife Lois planted the first vineyard block and released their first commercial wine in 1989.
Today, Rippon Estate continues to be run by the Mills family. It produces a highly lauded range of Pinot Noir from this magnificent landscape and its biodynamically-farmed vineyards. Breathtaking though it may be, every aspect – from the ground up – contributes to making the vineyard and its wines unique. Located on the 45th southern parallel, Central Otago is the most southerly winemaking region in the world, buffeted by the winds known as the 'roaring forties', which bring torrential rains to the western side of the island. However, Rippon is located on the eastern range of the Southern Alps, which protects it from the wind and the rain, with just enough precipitation falling to see it through its long, hot summers. Sitting at altitude helps mitigate the heat, with temperatures falling at night, locking in both flavour and freshness. Cool nights bring with them the danger of frost, especially in springtime when the vines are budding. But the nearby Lake Wanaka radiates warm air into the nearby vines, raising the temperature by as much as 4°, and the airflow created by the cascade on Mount Roy likewise helps prevents frost from settling. The soils themselves are largely schist, full of silica, quartz and mica. These produce wines that, like the rock itself, are multilayered, complex, lifted, precise and fine.
The winery is open to visitors every day by appointment. Larger groups and private tastings can also be accommodated. Meanwhile, also at the property is Rippon Hall which hosts concerts, events and pop-up restaurants throughout the year. Like the wines, it too was born from the surrounding land. The walls are made from compacted earth, the supporting beams from locally-sourced timber and the boiler is fuelled by wood sourced sustainably from the farm. The perfect location for an evening of music and merrymaking beneath the southern stars.