13
Château Smith Haut Lafitte
Bordeaux, France
Ethos: Do everything possible to make each vintage of red and white wine worthy of our magnificent terroir.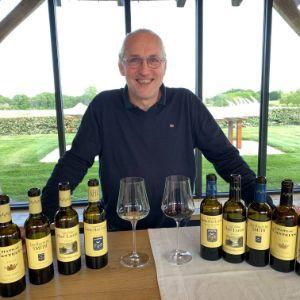 Winemaker
Fabien Teitgen
Wine Style
Grand Cru Classé white and red Bordeaux blends.
Milk and honey
Its history dates back to the fourteenth century but it is the past 30 years that are helping Château Smith Haut Lafitte make a lasting mark. In 1990, the estate was bought by former French Olympic skier Daniel Cathiard and his wife Florence, who have embraced biodynamic farming and brought a certain je ne sais quoi to hosting, turning this quintessential Bordeaux winery into a luxury destination.
Roaming the vineyards, you'll see shire horses ploughing land surrounded by woodland, orchards and beehives. They're all cultivated to enhance biodiversity, not just for more complex wines but to ensure the estate's longevity and minimize its carbon footprint.
The Cathiards have been joined in business by their daughters: Mathilde uses the estate's grape seeds and vine cuttings for her own internationally successful beauty brand, Caudalie, whilst Alice runs two hotels, one here on the estate.
Your visit
The five-star Les Sources de Caudalie is an opulent bolthole right in the middle of the vineyards. Within its timbered frame you can enjoy two-Michelin starred restaurant La Grande'Vigne, or more rustic fare at cosy countryside inn La Table du Lavoir. A spa offers Caudalie Vinothérapie and with a shop, wine bar, pool, gym, sauna, tennis court and more, one night may not be enough.
Day visitors should make a beeline for the tasting room in the orangery, where floorboards open up beneath you to reveal a secret spot-lit stairway leading to the estate's most precious collection of bottles dating back to the nineteenth century.
The wines
The château produces red and white blends using the seven Bordeaux grape varieties, farmed under biodynamic principles – with a little technological assistance. The grapes, for example, are monitored by satellite image to tell the team when, precisely, they should be hand-harvested. Said grapes are then picked in batches according to each plot's progress rather than one set date being imposed on the whole. On their way back to the winery, the grapes are covered in ergonomic hoods – designed by Daniel and inspired by Himalayan Sherpas – for protection against the elements. Its own cooperage means the team can control oak impact down to the minutest degree.