14
Domäne Wachau
Wachau, Austria
Ethos: Natural equilibrium.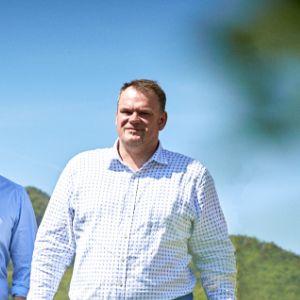 Winemaker
Heinz Frischengruber
Wine Style
Single vineyard wines combining elegance and power from a super-cooperative of growers (white, rosé, red and sparkling).
By the beautiful Blue Danube
Many wineries abut bodies of water, yet few can claim to make such brilliant use of them as Domäne Wachau does of the River Danube. Prior to tastings, guests can choose from a host of water-based activities including boat tours, private yacht hire and stand-up paddle boarding classes. The latter will take you on a three and a half hour exploration of the river's inlets before heading back to the winery for some well-earned refreshments. Equally, the water's edge can be traversed via foot, e-scooter or Segway, and there is even a helicopter option for groups seeking a bird's eye view.
After such thirsty work, it's just as well that the winery produces quite so many cuvées to try once safely on dry land; a cooperative formed of 250 families, Domäne Wachau can claim parcels in all prime sites of this small but illustrious winemaking region. It releases a large number of single vineyard wines, predominantly Grüner Veltliner and Riesling, each reflecting the unique character and depth of the hugely varied terroirs covering the valley's ancient hills, which rival the likes of the Mosel in Germany or France's Northern Rhône in steepness and hold UNESCO World Heritage status.
Your visit
The town of Dürnstein is famed for its castle, where Richard the Lionheart was imprisoned in the twelfth century – its dramatically jagged ruins loom from above. A short walk away, the 300-year-old Baroque winery sits on top of labyrinthine cellars just waiting to be toured. Stay on for delicious, traditional food served on the Kellerschlössel terrace, where communal tables and deckchairs set amongst the vines create a warming tavern feel, especially when the barbecue gets going.
The wines
Domäne Wachau favours a minimal level of intervention so as to preserve the character of its wines, waiting to see what each vineyard and each vintage bestows. It likes to compare its wines to a ballet dancer – very strong, very expressive but also very elegant.