13
Finca Victoria - Durigutti Family Winemakers
Mendoza, Argentina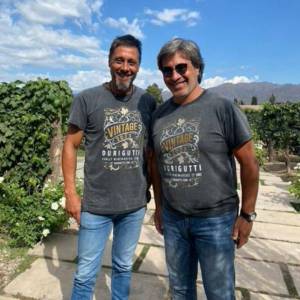 Winemaker
Héctor and Pablo Durigutti
Wine Style
Red and white wines
Durigutti Family Winemakers began in 2002, as a small winery put together by sibling oenologists Héctor and Pablo Durigutti. Originally from Rivadavia in Argentina's winemaking heartland of Mendoza, in their youth the brothers had discovered another area of the region and fallen in love with it – Las Compuertas. Growing up and through their studies, they always knew it was the place they needed to make their wines. Starting small, their horizons and ambitions were limitless. Focusing initially on exports, they reinvested everything they could back into the winery, buying their first vineyard in 2007 which they called Finca Victoria after their mother. And while keen to continue the traditions and express the sense of place in their wines, they always remained alive to evolving trends in the wider world. In little over 20 years, this family project has grown and developed to encompass wine production and regional tourism and hospitality; grounded in the principles of agro-ecological sustainability and the preservation of regional heritage. The vineyards are certified organic, and the winemaking is as natural and minimal as possible, using native yeasts and without clarification or filtration. Not using any animal-derived products the wines are also vegan-friendly.
Immersed in the natural landscape, production and tourism at Finca Victoria are seamlessly weaved together, offering visitors a direct connection to the earth, tradition and wine. The winery is open daily, providing tours of the 40 hectares of vineyards, forests and lagoon, with its old plots of Malbec, abundant bird species and beautiful views of the Andes. Tours finish with a selection of wines from the estate in either the cellar or galleries. Guests can also stay in one of the two, fully-equipped guest houses, which are next to the plot of 100-year-old Malbec vines on the property. The winery regularly holds events throughout the year at its open-air space and recently opened a restaurant, 5 Suelos - Cocina de Finca. Here, chef Patricia Courtois works closely with local suppliers and producers to create delicious homemade dishes. Diners can choose to really experience Paticia's storytelling through cooking by choosing from one of the tasting menus, or the History Menu, a voyage through 14 wine and food pairings telling the story of Argentine wine. Don't neglect to ask what bottles are available from the private cellar, which contains older vintages and rarities no longer available commercially.
The brothers employ an eclectic mix of winemaking tools, such as concrete pools, egg-shaped fermentors and terracotta amphora alongside more traditional methods in order to achieve their goal of making high-quality wines that speak of the terroir of this splendid place. It is an oasis of outstanding natural beauty, gastronomic experience and oenological perfection.