16
Quinta do Noval
Douro Valley, Portugal
Ethos: Devoted to the task of looking after this great vineyard terroirs.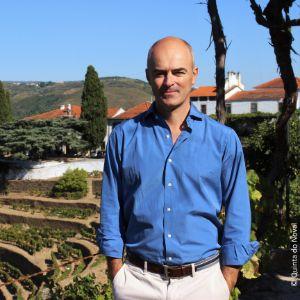 Winemaker
Carlos Agrellos
Wine Style
Historic white, red and old tawny Ports, plus white and red wines celebrating the Douro's noblest grape varieties.
The heart of the Douro
Quinta do Noval encapsulates the Douro – in both location and spirit. Dating back to 1715, it is the only historic Port shipper to bear the name of its vineyard (rather than gathering grapes from elsewhere), to produce single vineyard vintage Ports displaying the nuances of the land and, as of 1997, to have centralized all of its activities to the Douro Valley including bottling and storing its wines. To walk these magnificent terraced vineyards rising up from the riverbank is to touch upon the beating heart of the Douro, a UNESCO World Heritage site.
Your visit
Open every day of the year, Quinta do Noval's private tours and tastings are by appointment only, ensuring a thorough and exclusive introduction to the estate. You'll start in the all-important vineyard – 145 hectares all bestowed with Portugal's highest classification, Letter A – where a variety of soils, altitudes and expositions impart distinctive characteristics into the different parcels of land. You'll then be led through the winery and cellars, witnessing the traditional stone lagares and maybe even the treading of the grapes. In addition to the original shop, which opened in 1995 at Vila Nova de Gaia, a new emporium on the quays of Pinhão offers a wealth of information, tastings and more.
The wines
Quinta do Noval works hard to ensure that its multifaceted vineyard is faithfully represented by planting each parcel with the grape variety best suited to it, including the native Touriga Nacional, Touriga Franca, Tinta Roriz, Tinto Cão and Sousão. The highly sought after Quinta do Noval 'Nacional' Vintage Port is a field blend of 20-30 of these that displays a unique personality with each and every vintage. The newer 'Noval Black' comes in a smart, updated bottle and is designed to be tasted alongside dark chocolate, or simply chilled, for a more modern Port experience.