27
Abadía Retuerta
Castilla y León, Spain
Ethos: As guardians of the legacy we have inherited, our mission is to manage it in an ethical and responsible way, so we can share it with current and future generations.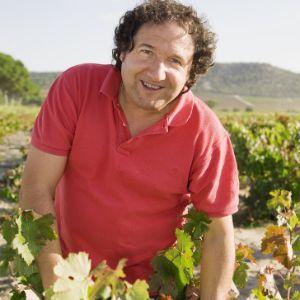 Winemaker
Ángel Anocibar
Wine Style
Terroirs-based white, rosé and red wines in both classic and experimental styles.
Holy orders
The Abbey of Santa María de Retuerta, founded in 1146, has been reimagined as one of Spain's most sumptuous hotels. Set on a 700-hectare estate in Sardón de Duero (a couple of hours from Madrid), the late-Romanesque and Gothic style monastery was once the national headquarters of the Premonstratensian Order and has been declared an official Site of Cultural Interest. Now, its chapel, cloisters, chapter house, refectory, stables and more house a five-star hotel complex (including Michelin-starred restaurant) and winery.
Your visit
Opened in 2012 after four years' restoration, Le Domaine's 30 rooms feature jewel-coloured velvet sofas, four-poster beds and full butler service. The flagship restaurant, Refectorio, is presided over by a frieze depicting The Last Supper and holds both a Michelin Star and a Michelin Green Star for its outstanding ethical and environmental standards. Chef Marc Segarra sources much of his produce from the estate's vegetable patch and diners can choose between three signature menus ('Terruño,' 'Legado' and 'Carpe Diem'). Elsewhere, Vinoteca is a more intimate wine bar, the newly created Calicata Terroir Bar immerses you in the local soils and materials whilst enjoying the food and wine that they beget, and cocktails get served poolside.
Private tours of the estate transport you by 4x4 so that you can explore every nook, including the art works dotted about: the latest is a 1959 piece by Basque sculptor Eduardo Chillida, named "Rumor de Límites". Elsewhere, try cycling, horse riding, stargazing through telescopes and yoga. Recovery at El Santuario Wellness & Spa includes a 'Spa Sommelier Experience,' tailoring treatments to your needs through a guided tasting session of the estate's wines combined with the aromas of corresponding essential oils.
The wines
A centuries-old winemaking heritage was revived in 1988 when Abadía Retuerta was bought by current owners, the Novartis Group. One of Spain's first fully gravitational wineries, the technologically advanced facilities were designed by French consultant Pascal Delbeck, who worked with oenologist and head winemaker Ángel Anocíbar to replant the vines and instigate meticulous soil analysis, which guides everything they do.
Despite its sprawling scale, vineyards only cover 192 hectares of the estate's best soils, split into 54 small plots ('pagos') along the banks of the Douro River. The majority is planted to Tempranillo, with Cabernet Sauvignon, Syrah, and small amounts of Merlot and Petit Verdot. White varieties including Sauvignon Blanc and Verdejo make a surprisingly age-worthy blend.