26
Henschke
South Australia, Australia
Ethos: We are keepers of the flame.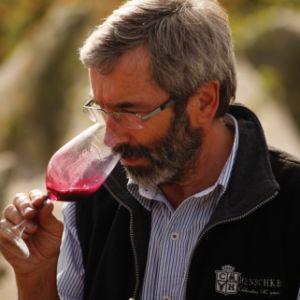 Winemaker
Stephen Henschke
Wine Style
An extensive range of first-rate white, red and sparkling wines with a focus on single vineyard and small parcel examples. Particularly notable Shiraz and Riesling.
Amazing Grace
The Henschke family's Eden Valley estate is home to some of Australia's oldest and most cherished vineyards, including the fabled Hill of Grace and Mount Edelstone. Outstanding Shiraz and Rieslings are produced by the fifth and sixth generations of winemakers, with a focus on single site expressions that tell the story of the land and the people that made them. With tastings personally hosted by the family, visits here are very special occasions.
The Hill of Grace vineyard was planted more than 150 years ago by one of the region's Silesian settlers, and so named after the distinctive Lutheran church that overlooks it, built in homage to his motherland. The twisted old Shiraz vines were first turned into wine in 1958 by the trailblazing Cyril Henschke, whose son Stephen is still making it today assisted by his viticulturalist wife Prue, who has introduced organic and biodynamic farming practices. They have more recently welcomed their children into the business, combining a respect for traditional techniques with modern technology that will sustain the Henschke heritage for years to come.
Your visit
Guests are led through an introductory tasting in intimate surroundings, watched over by portraits of the family forebears. Those with more time to spare can opt for the 'Hill of Grace Experience,' gaining exclusive access to the famous vineyard before touring the winery and cellars, built in the 1860s; finish with a private tasting of the estate's most illustrious wines including 'Hill of Grace,' plus rarer examples like 'Hill of Roses,' only produced in exceptional years.
The 'Barossa Experience' takes things further by introducing you to Henschke's friends and neighbours at Hutton Vale Farm, flying you there from Adelaide by private plane. The families escort you through the Henschke vineyards and cellars before all sitting down to a casual and delicious lunch.
The wines
Henschke is one of Australia's First Families of Wine, a prestigious circle uniting 10 of the country's oldest and most distinguished estates. Winemaker Stephen Henschke keeps intervention to a minimum, favouring gentle extraction of his reds so as to retain freshness and subtlety, and applies Old World techniques to his New World white grapes for elegance and texture.