33
Château Mercian Mariko Winery
Nagano, Japan
Ethos: Understanding the wines of the world in order to develop the particular characteristics of Japanese wine.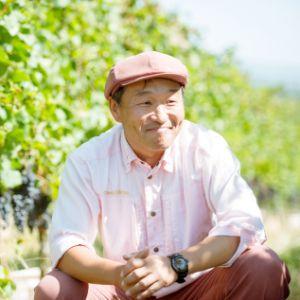 Winemaker
Hironori Kobayashi
Wine Style
Vibrant, perky wines from French and native Japanese varieties (white, rosé and red).
From the inside out
The upper terrace of the Mariko Winery affords panoramic views of vineyards and volcanoes (Mount Tateshina and Mount Asama), but the inward perspective is just as captivating: windows overlook the production room and cellar, and rails run along the ceiling of the reception area to feed new wine into the tanks by gravity. Grapes are separated according not just to variety but which of the Mariko vineyards' 16 plots they came from, finally arriving at one of two cellars differing in temperature, to be optimally matured.
It's all in a bid for nuance, and marks exciting thinking from the newest addition to one of Japan's oldest winemaking companies. Château Mercian has roots in the country's first private wine company, Dai-Nihon Yamanashi Budoushu-Gaisha, which was founded in 1877, and currently owns two other sites, at Katsunuma and Kikyogahara. The Mariko vineyards opened in 2003 and the winery in late 2019, heading straight onto this list the following year.
Your visit

With four types of tour on offer, the 'Premium' option takes you through the vineyards in depth before heading into the winery, every step bringing the team's history and passion to life; you'll finish up at the Tasting Counter with a flight of six Château Mercian wines, including three from Mariko itself. Elsewhere, the second floor terrace is a perfect place to take in the scenery, a glass of wine in hand and a beautiful longstalk holly tree next to you providing a moment of Zen. Snacks are made from local ingredients, and the full selection of the company's wines is available to purchase, including those made with the native Koshu grape.
The wines
Whatever the wine, Château Mercian hopes to reflect the Japanese terroirs with purity and finesse. Mariko's 30 hectares are planted to French grape varieties, predominantly Merlot, Chardonnay and Syrah (though there is also Cabernet Sauvignon, Sauvignon Blanc, Cabernet Franc, Pinot Noir and Petit Verdot), with indigenous varieties grown at other sites.