48
Château Cana
Bekaa Valley, Lebanon
Ethos: Every generation has its own battles. Now is not the time to give up, it's the time to fight for our people and our land.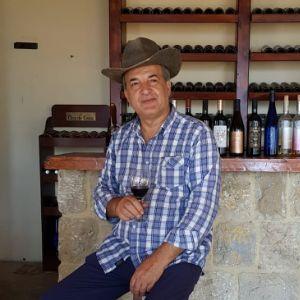 Winemaker
Dr. Fadi Gerges
Wine Style
Powerful and evocative white, rosé and red wines, especially from the native black Sobbaghieh grape; the aniseed-based Lebanese Eau de Vie, Arak.
Pride of place
Snuggled into in the Lamartine Valley's ancient pine-covered slopes, in the village of Ras El Harf, Château Cana is at the heart of modern Lebanese winemaking. The Bekaa Valley's vinous history spans thousands of years and this small estate, closer to the capital Beirut than most others, will welcome you in and tell you its story by the fire, but its foundation owes as much to modern history as to times gone by. And then there's the native grape variety, Sobbaghieh, exclusively vinified at this domain.
Your visit
Each and every tour starts in the tasting room, where guests learn the history of Château Cana, founded by Dr. Fadi Gerges in 2001: a dentist by trade and an avid human rights activist, he wanted to encourage people back into the region's villages after the Lebanese civil war, which ended in 1990. He managed this by buying up land and teaching families how to grow grapes on it, which he would later sell for them and, unsurprisingly, it led him into winemaking himself.
Château Cana now encompasses three events spaces and an independently managed one-bedroomed guesthouse – an isolated escape with epic views. The inside of the winery is adorned with stone archways, wrought iron chandeliers and warming fireplaces. Outside, its tree-lined garden lights up come night fall, with a valley-facing upper terrace that is backed by a vast, grey rock formation – over a thousand years old, it only adds to the ambience.
The wines
This part of the world enjoys ample sunlight, its warmth retained by the gravel topsoils, but the clay beneath ensures that enough rainwater is captured to ensure vine health even in drier months. Consequently, the highly tannic indigenous Sobbaghieh can reach full ripeness without issue, producing deeply coloured and even more deeply flavoured wines, like the 'Jardin Secret.' Full of black berry fruit aromas, maturation in old oak for six months adds a layer of sweet spice and occasional hints of forest floor from bottle age. It is rich, sumptuous, entirely evocative of its place and often poured for you by Fadi or his daughter Joanna, who now manages operations.