49
Quinta do Vallado
Douro Valley, Portugal
Ethos: Persistence, endurance and resilience," inspired by the Cistus Ladanifer plant.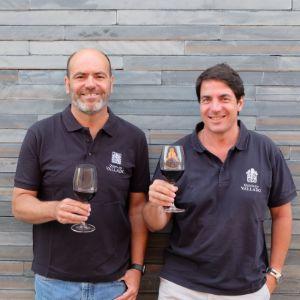 Winemaker
Francisco Olazabal and Francisco Ferreira
Wine Style
A large collection of red, white and rosé wines highlighting local grape varieties, including single varietal, single vineyard and field blend cuvées, plus white, tawny and ruby Ports.
Heritage meets dynamism
One of the Douro's oldest wine estates has been brought seamlessly into the modern world with two boutique hotels offering a riverside idyll steeped in history. Originally focusing on Port production, Quinta do Vallado dates back to 1716 and was owned by industry icon Dona Antónia Adelaide Ferreira, who was instrumental in formulating many of the techniques now used in Portuguese winemaking. Antónia's descendants are still in charge of today's winery, offering guests the chance to immerse themselves in its work (by joining the harvest and treading the grapes by foot, taking blending and viticulture workshops, and more), or simply relax and recharge.
Your visit
Five suites are set amid the traditional splendour of the eighteenth century manor house, the ochre-washed exterior of which is reflected on the wines' vibrant labels. By contrast, the striking stony edifice of the newer wing, built in 2012 by Francisco Vieira de Campos using the local schist, contains eight rooms with a sleek, moody and modern feel.
The secluded Casa do Rio, on the estate's more recent vineyard site in the nearby Douro Superior, is an ecologically-friendly hotel made almost exclusively of wood and suspended out of the hillside of a gorge, with an orange grove below and an infinity pool looking down onto the river.
Whilst it would be easy to sit back and take in the views, there is plenty to entertain on both land and water with boat, walking or jeep tours on offer, plus cycling, fishing, canoeing, stand-up paddle boarding, cookery classes, picnics and a spa that uses essential oils from the estate itself.
The wines
Quinta do Vallada has produced its own dry wines since 1993 from 65 hectares in Baixo Corgo (including 10 hectares of old vines, some up to a hundred years in age) and 35 hectares in the Douro Superior, which have been farmed organically since being planted in 2009, gaining certification in 2015. With a state-of-the-art winery and cellar, the estate combines technological advancement with tried and tested methods (like treading the grapes in granite lagares) that honour its impressive heritage. Field blends and single varietal wines champion local grapes including Touriga Nacional, Touriga Tinto, Sousão and Moscatel Galego Branco.