43
Viu Manent
Colchagua Valley, Chile
Ethos: We are the valley's past, present and future.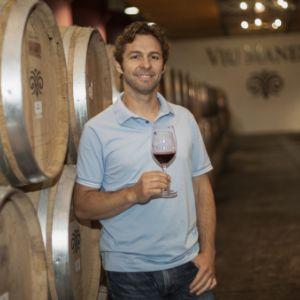 Winemaker
Patricio Celedón
Wine Style
High quality wines championing the Colchagua Valley in white, red and rosé styles with a spotlight on purely Chilean Malbec, and Carménère.
The Viu from the top
The family-run Viu Manent has been breaking new ground for wines of the Colchagua Valley since its foundation in 1935. Just a couple of hours from the Chilean capital Santiago, this rustic countryside estate has been spearheading the country's wine tourism scene since opening its doors in 1995, welcoming thousands of guests every year (COVID notwithstanding).
Your visit
Like any good hosts, the warm and friendly team won't let you leave either hungry or bored. In addition to a café, the Rayuela Wine and Grill serves meat and fish prepared in a mud oven alongside refreshing salads, and for something extra special, there are pairing menus and master classes by celebrity chef Pilar Rodríguez at the Food and Wine Studio. An equestrian programme includes jumping classes and equine therapy, the 75-minute flagship tour ambling through the Variety Garden before taking you through the vineyards by antique horse-drawn carriages and finishing up with a tasting session.
The wines
In 1993, Viu Manent produced the first ever Malbec made from 100% Chilean grapes and it has continued to champion this variety ever since. Malbec now goes into eight different cuvées, including a rosé and the jewel in its crown, 'Viu 1.' Named in honour of founder Miguel Viu Garcia, who emigrated from Catalunya to establish the estate with his two sons, 'Viu 1' is made with grapes from a special block within the oldest of its three vineyard sites, San Carlo, where the vines are over 100 years old.
The family has always sought to exhibit the nuances of the region through its wines, more recently experimenting with single vineyard Carménère and working towards a Chardonnay made from purely Colchagua fruit (a small percentage is still sourced from the neighbouring Casablanca Valley).
Today, Miguel's grandson José has lost none of the family zeal, helping to create the Colchagua Valley Wine Route and working to make Viu Manent a thoroughly modern, sustainable enterprise; this year, it became one of Chile's first wineries to earn 'purple' certification, recognising its tourism practices in addition to its environmental, social and winemaking procedures. Viu Manent's commitment to sustainability is palpable, supporting the local community, relying on solar panels for its tourist operations, encouraging native flora and fauna alongside the vines, and reducing its carbon footprint wherever possible – the e-bikes, horse-drawn carriages and walking vineyard tours aren't just scenic, they're practical too.