4
VIK
Cachapoal Valley, Chile
Ethos: The perfect fusion between humans, experience, land, climate and high technology.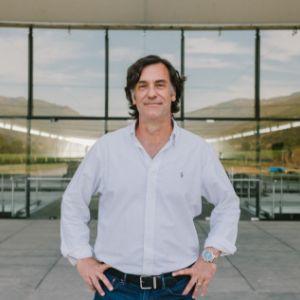 Winemaker
Cristian Vallejo
Wine Style
World-class red blends and one rosé, from Cabernet Sauvignon, Carménère, Syrah, Cabernet Franc and Merlot.
A wilderness festival
In the foothills of the Andes, in a remote place named "Golden Place" by the native people, is one of the world's most advanced, artistic and holistic wineries. The vision of Norwegian businessman Alex Vik and his wife Carrie, what started out as nearly 4,500 hectares of virgin land in 2004 is now producing red blends that are raising the bar for South American wines and concurrently capturing the oenotourism zeitgeist.
On the crest of a hill overlooking expansive valleys and a lake, the hotel's undulating titanium and bronze roof, designed by Marcelo Daglio, both contrasts and somehow befits the sweeping backdrop. It reflects the brilliant sunshine much like the water rippling along the gently sloping plaza below, on top of which crisscrossed pathways lead to the entrance. This wilderness retreat comprises 22 themed suites, seven glass-walled bungalows, three restaurants, an enviable contemporary art collection, a wine spa (yes, you bathe in the stuff!) and, of course, the winery itself.
For all its grandeur, Vik's habitat remains its primary concern: technological prowess and organic kitchen gardens are not just for show, but to keep operations in harmony with the land; it seeks to benefit the community by providing employment not solely on the estate, but through the local suppliers it supports.
Your visit
Day guests can make the most of vineyard tours, horse riding, wine tastings and fine dining all in a magical setting. At fine dining restaurant, Pavilion, many of the ingredients are picked from the estate's own garden, where guests can forage for their own food as part of cookery sessions bringing the concept of farm-to-table dining to life.
Within the hotel, works by Chilean and international artists lie at every turn, none more so than the rooms themselves, each one designed in a separate style.
The wines
Created by Chilean architect Smiljan Radić, the ecologically friendly winery is largely subterranean but can be spotted by its white stretched fabric roof, which seemingly floats amid the vineyards.
Working with Bordeaux experts from the off, the Viks did a huge amount of research into their soils before choosing grape varieties and, despite the vastness of the estate, only plant on prime spots. Grapes are hand harvested at night (to retain purity by handling at lower temperatures), undergoing fermentation in stainless steel tanks with native yeasts. Maturation is in a mix of old and new French oak, carefully monitored so as to retain nuance, texture and complexity.
The result is a small but mighty collection (three red blends and a rosé) that is redefining the worldview on Chilean wine.