15
Champagne Taittinger
Champagne, France
Ethos: We cultivate the vines, not egos.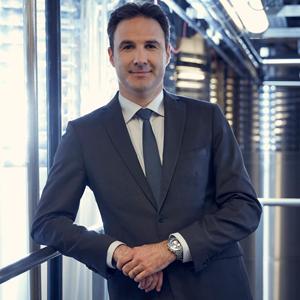 Winemaker
Alexandre Ponnavoy
Wine Style
Archetypal white and rosé Champagnes (vintage and non-vintage) all imbued with a deep heritage.
Smell the roses
One of the few grand Champagne houses to remain family-run, and to welcome guests into its cellars, Taittinger proffers a walk through history at its Louis Quinze château in Pierry, close to Epernay, and via its Gallo-Roman cellars in the Champagne capital of Reims.
Château de la Marquetterie was built in 1734 and once owned by French author Jacques Cazotte, who hosted the likes of Voltaire and André Chénier come harvest. It was acquired by Pierre Taittinger in the 1930s, whose great-granddaughter Vitalie is now in charge, working alongside her brother Clovis.
Dug deep into fourth century chalk quarries, the labyrinthine cellars sprawl beneath the remains of the Saint-Nicaise Abbey, built in 1229 by Benedictine monks in honour of Nicasius, patron saint of Reims. That building was once home to Thibaut IV, otherwise known as the Comtes de Champagne – legend has it that he brought both the Chardonnay grape and the Damask rose back to France with him in the thirteenth century.
Your visit
A private tour of the cellars will lead you 18 metres underground via a spiral staircase. Walking through this UNESCO World Heritage Site, you'll see graffiti left along the walls by the soldiers and refugees who sought shelter there during the First World War and you might also glimpse the riddlers at work, performing the age-old practice whereby inverted bottles of Champagne are incrementally rotated, by hand, to collect sediment in the neck of the bottle. Bespoke tastings are led by sommeliers in the Taittinger lounge.
The wines
Produced from 288 hectares spread across 37 crus, Taittinger's Chardonnay-dominated range includes the flagship 'Comtes de Champagne,' a Blanc de Blancs (100% Chardonnay) aged for 10 years in those famous cellars. 'Les Folies de la Marquetterie' comes exclusively from the vineyard surrounding the château, using only the first press juice from the finest Chardonnay and Pinot Noir plots, aged in bottle for five years.