16
Soalheiro
Vinho Verde, Portugal
Ethos: A passion for vines and wines.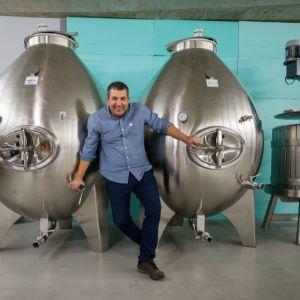 Winemaker
António Luís Cerdeira
Wine Style
White, rosé, red and sparkling wines with a focus on Alvarinho.
Pioneers
In 1974, the year of Portugal's Carnation Revolution, João António Cerdeira and his wife Palmira became the first people to plant Alvarinho grapes in Melgaço, in the northernmost part of the country's Vinho Verde region. Originally working from his family's garage (in place of their old red Ford Estate), João produced wines under the Soalheiro name from 1982, including a pioneering sparkling Alvarinho in 1995. Championing this white grape has become Soalheiro's modus operandi and its wines are globally recognized for their brightness and intensity.
Today, the estate is run by João's children (with a little help from their mother), who have modernized the winery to make it as eco-friendly as possible and instigated an Innovation Room for thinking up fresh ideas – an initiative lauded by the Portuguese President. Producing wine, spirits, herbal teas, cured meats, organic vegetables and more, a visit to Soalheiro is a total immersion in the delights of the Minho valley.
Your visit
Check into Herbal Teas House, a rustic three-bedroom cottage opened in 2020, and sits slap bang in the middle of Soalheiro's tea plantation. Each room is inspired by one of the estate's infusions, which include rosemary, lavender, artichoke leaf, lemon balm and strawberry fields globe amaranth, and waking up here to a breakfast of locally grown produce is the perfect starting point for discovering the territory: drive on up to the nearby Peneda Gerês National Park, on the fringes of which are Soalheiro's Alvarihno vines, the highest in Portugal at 1,100 metres.
Back at the winery, private tastings take you through the entire portfolio of 16 wines, enjoyed on the terrace with panoramic views out over greenery grazed by cows and horses. Dining happens down the road at Quinta de Folga, three-course menus exhibiting Minho cuisine, using vegetables and jams made from Soalheiro's organic farm and cured meats from its indigenous Bísaro pigs.
The wines
Soalheiro owns 14 hectares of organically farmed vineyards and works with a 'club' of some 150 grower families who supply grapes from their best plots. The wines are made as naturally as possible, with no filtration and minimal use of sulphites. Alvarinho is the star and comes in all forms including still, sparkling and even grappa.