40
Estate Argyros
Santorini, Greece
Ethos: Each vine is a unique organism.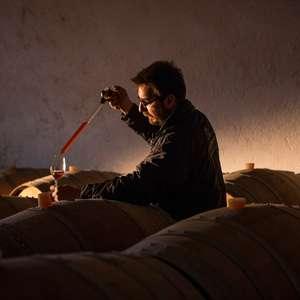 Winemaker
Matthew Argyros
Wine Style
Dry and naturally sweet white wines.
Quality over quantity
The Argyros family may own the largest private holdings of vineyards on the Greek island of Santorini but the goal has always been to produce the very best wines, not the most. Focussing on the island's leading grape, Assyrtiko, fourth generation winemaker Matthew Agyros oversees organic farming across the estate, established in 1903, where the average vine age is 70 and the oldest are over 200 years old.
The winery, by contrast, was finished in 2016. Designed by local architects Nikos and Frantseska Tsebelis, it combines some familiar Santorini elements with a decidedly modern aesthetic. The wines now benefit from a temperature-controlled, gravity-fed facility while visitors can enjoy the double-height tasting room for the feast of local food - and, of course, wine - that awaits.
Your visit
The inimitable vines of Santorini are trained to grow in basket shapes close down to the ground to protect against the fierce winds that embattle the tiny volcanic island - they are unlike any other in the world, and so it's not surprising that visits to Argyros start here. But a guided tour will also enlighten you to the family's firmly held philosophy honouring each and every vine.
You'll then explore the winery before moving onto a paired tasting. The 45-minute option takes you through four types of Assyrtiko alongside local cheeses, while the 90-minuter is a gastronomic affair incorporating a host of regional delights teamed with seven wines showcasing not just Assyrtiko but other grape varieties native to the island, plus some decades-old sweet vin santos.
The wines
Yields are kept deliberately low to ensure careful concentration of the fruits' flavours and, out of respect to the individual plants, the team allows each plot of land to dictate when to harvest, how to process and how to age its wines.
While Assyrtiko is capable of producing extremely powerful white wines, Estate Argyros is keen to maintain subtlety and finesse within their range, making the timings of their harvests of paramount importance to avoid over-ripening. Varying styles of Assyrtiko are made in addition to wines from the indigenous Aidani and Mavrotragano grapes, not forgetting the vin santos: sweet wines made from grapes allowed to dry out to concentrate their sugars, capable of extended aging.