32
Klein Constantia
Constantia, South Africa
Ethos: Quality, not quantity.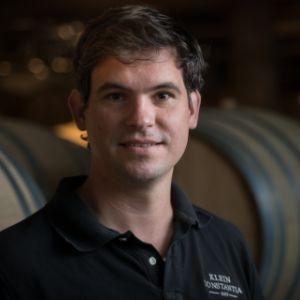 Winemaker
Matthew Day
Wine Style
Some of South Africa's finest wines including a celebrated revival of the sweet 'Vin de Constance' that historically brought the region fame, plus white, rosé, red, sparkling (MCC), and a husk spirit ('Spirit of Constance').
The Cape's nectar
The sweet wine of Constantia was requested by Napoleon Bonaparte on his deathbed, having shunned all other sustenance. It was also keenly imported by King Louis XVI and Marie Antoinette, and Queen Victoria drank it every night before bed to help her sleep. It has been eulogized by Jane Austen, Charles Dickens, Charlotte Brontë, Baudelaire, Byron and more. Today, it can be found at Klein Constantia, an estate dating back to 1685 that first revived production of 'Vin de Constance.'
Your visit
Close to Cape Town's centre, the leafy hills of Constantia offer wine lovers an exquisite trail of estates to meander between, with the majestic Table Mountain range on one side and sea views out over False Bay on the other. Originally one large property owned by Simon van der Stel, the seventeenth century commander and governor of the Cape, Constantia was later divided up and Klein Constantia now comprises 146 hectares of that – visitors can cover the sprawling farm via bike tours.
The traditional Cape Dutch homestead is contrasted by a contemporary winery designed by celebrated architect Gawie Fagan, which was refreshed in 2018 and now boasts a light-filled tasting studio and restaurant. With jacaranda trees hanging overhead, food at The Bistro puts a European spin on South African cuisine, proudly using fresh, seasonal and locally sourced ingredients – the perfect accompaniment to the famous Vin de Constance.
The wines
With 69 hectares under vine, Klein Constantia grows Sauvignon Blanc, Semillon, Riesling and a variety of reds. Then, of course, there is the Muscat de Frontignan (otherwise known as Muscat Blanc à Petit Grains), which the owners started turning into their inimitable dessert wine in 1986, about a century after production of the original 'Constance' had waned. The grapes are allowed to ripen slowly into raisins on the vine, generating natural sweetness and acidity. Matured in oak barrels, the liquid is heady, complex and beguiling, with typical flavours of honeysuckle, burnt toffee, orange zest and the occasional hint of saltiness. Like everyone, you'll soon be bewitched.